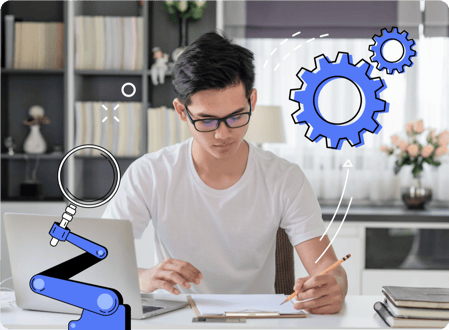 LTV.ai can be set-up in less than a day for most companies
We understand the value of your time. With LTV.ai, you can quickly integrate your existing platforms and be up and running in less than a day. Simply install our Shopify or BigCommerce app and follow the onboarding assistant's instructions. Even necessary DNS changes for our email sending capabilities can be easily communicated to your IT department and implemented within 15 minutes. We streamline your data integration process, enabling you to focus on what matters - growth.
Reactivating Customers with a Personal Touch
Our platform goes beyond the norm, bringing lapsed customers back into the fold with deeply personalized interactions that resemble a personal shopper. Our emails are designed not just to be read, but also to initiate a conversation. Customers are encouraged to reply directly, fostering a human connection that culminates in a personalized one-time use coupon that can even be extended by request. This unique approach to reengagement has reactivated millions of customers who haven't shopped in six months or more.
Tap Into Your Existing Resources
No need for drastic changes. LTV.ai works seamlessly with your current ecosystem, utilizing your existing platforms for payments, cart management, and more. With automatic data syncing, your highly personalized emails will reach and re-engage dormant customers, rekindling their interest and driving sales.
Success Stories. Transformative Results
Don't just take our word for it - learn from our success stories. See how one leading retailer used our generative AI to reactivate nearly 100,000 dormant emails, resulting in a 10x ROI and a 3.4% CTR​​. Another top retail brand experienced a 307% increase in LTV and generated 7 figures in annual loyalty revenue within weeks using our seamless BigCommerce integration​.
Automated Segmentation
Say goodbye to one-size-fits-all marketing. Our platform automates customer segmentation, taking into account various factors from purchase behavior to geographical location. This enables more targeted marketing that resonates with each unique customer segment.
We tailor your audience engagement with precision based on proven results. The segments we create update automatically, keeping your marketing efforts efficient and effective.
Custom Integrations Made Easy
Need a custom integration? No problem. Our API allows retailers to develop their own integrations, or you can take advantage of our dedicated team of experts who are ready to assist.
Increase LTV, Retention and Repeat Sales
The secret to boosting LTV, enhancing customer retention, and driving repeat sales lies in intelligent integrations. By reactivating lapsed customers and turning them into loyal subscribers, LTV.ai brings you one step closer to e-commerce success.
Are you ready to boost your e-commerce performance with the power of a paid loyalty program?
Contact us today to learn more about how LTV.ai can boost customer loyalty, improve customer satisfaction, drive repeat purchases, increase basket size and minimize your CAC.